We have selected for you the best altcoins of 2022 based on some research on the exchange platforms.
Whether you're a cryptocurrency professional, or a novice, it's quite common to wonder which cryptocurrencies to invest in each year.
The year 2022 has been marked by the bear market which makes some hesitate and others take advantage of buying.
In any case, we have selected for you the best altcoins of 2022 based on some research on the exchange platforms.
Discover in this guide our top 3 most promising altcoins that can promise the best profits.
Top 1 : The Binance Coin or BNB
You've probably already heard of Binance, the largest cryptocurrency trading platform.
Launched in July 2017, Binance aims to bring cryptotrading to the forefront of financial activity on a global scale. The idea behind the name Binance is to showcase this new paradigm of global finance – binary finance, or Binance.
In addition to being the world's largest crypto-exchange, Binance has launched a whole ecosystem of features for its users. The Binance network includes the Binance Chain, Binance Smart Chain, Binance Academy, Trust Wallet, and research projects, all of which use the powers of blockchain technology to bring new-age finance to the world. BNB is integral to the smooth operation of many Binance sub-projects.
Changpeng Zhao is the founder and CEO of Binance. In 2001, Zhao joined Bloomberg as head of trading book futures development. He spent four years with the company and then joined Fusion Systems as a partner.
Since 2013, Changpeng Zhao has been actively involved in blockchain technology and crypto-currencies. He became the head of Blockchain development, and in 2015, he founded BijieTech. In 2017, Zhao officially launched Binance, and he has been the company's CEO ever since.
Binance Coin has grown from nearly 5 Billion dollars in capitalization at the beginning of 2021 to over 75 Billion dollars by the end of 2021, before dropping to around 60 Billion dollars in the spring of 2022, again showing the scale of capital flows in 2021, and quite suggestive of the break between the rise in 2017 and the rise in 2020 and 2021: investment is no longer solely speculative.
Binance is among the tokens with the strongest performance in the previous year, and this crypto currency had already seen an encouraging rise in 2020.
A rise in the prices of major cryptocurrencies could only benefit the platform. However, due to the correlation between the price of BTC and Binance Coin, one should be particularly attentive to possible further corrections during 2022. Nevertheless, it is worth noting that Binance Coin will remain in 2022 after the notable expansion of the crypto since 2020.
Why BNB?
The evolution of the price of BNB which depends largely on the number of users of the platform.

It is highly likely that the price of BNB will continue to rise.

It is a currency that is frequently used on DEFI sites as an exchange or transaction currency.
Top 2 : Ether of Vitalik Buterin
Ethereum is a decentralized open-source blockchain system that features its own cryptocurrency, Ether.
Ethereum was first described in a 2013 white paper by Vitalik Buterin. Buterin, along with other co-founders, secured funding for the project through an online public sale in the summer of 2014. The project team managed to raise $18.3 million in Bitcoin, and the price of Ethereum in the initial coin offering (ICO) was $0.311. , with over 60 million Ether sold.
Ethereum's own goal is to become a global platform for decentralized applications, enabling users around the world to write and run censorship-, downtime-, and cheat-resistant software.
Why Ether?
Ethereum pioneered the concept of a blockchain smart contract platform.
The Ethereum blockchain is capable of hosting other cryptocurrencies, called "tokens," through the use of its ERC-20 compatibility standard.
Ethereum (ETH) is the second cryptocurrency in terms of valuation.
In average annual performance, ETH ranks among the best major cryptocurrencies with +270% in 2021, which is significantly higher than the performance of Bitcoin.
Top 3 : Cardano
Cardano is a blockchain platform that relies on proof of stake and whose objective is to enable "solution creators, innovators and visionaries" to bring about global positive change.
This altcoin Cardano (ADA) is among the 6 largest cryptocurrencies to date. Cardano is a blockchain platform that differs from its competitors by the existence of a double blockchain. This allows secure and scalable transfers (capacity to meet high demand).
In 2021, Cardano's price performed even better than in 2020 (+390% against +350%), which allowed the virtual currency to blithely exceed the previous highs of 2018. Now Cardano is stabilizing strongly since the correction started in 2022. This dynamic is rather favorable for the future and Cardano seems to take place within the group of high-performance active cryptos, even if a trend reversal is no longer unthinkable in the medium term.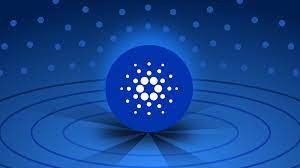 This open source project also aims to "transfer to individuals the power of structures that do not have to account for their profits" in order to build a safer, more transparent and more equitable society.
Cardano was created in 2017, the ADA token being designed to ensure that owners can participate in network operations. Thanks to this, those who hold the cryptocurrency have the opportunity to vote for each proposed change for the software.
Cardano is used by agricultural companies to track fresh produce from field to plate, while other products on the platform allow secure storage of educational identifiers, or the curbing of product acquisition counterfeited by retailers.
Why Cardano?
Cardano is one of the largest blockchains to use a consensus mechanism that relies on proof of stake, which is more economical than the proof-of-work model on which Bitcoin is based.
This project prides itself on ensuring that all of the technologies it develops go through a peer-reviewed research process, which means bold ideas can be tested before they are validated. According to the Cardano team, this academic rigor allows the blockchain to be durable and stable, which increases the chances of anticipating potential pitfalls.
In 2020, Cardano went through a Shelley upgrade which aimed to make its blockchain a product "50 to 100 times more decentralized" than other major blockchains. At the time, Mr. Hoskinson predicted that this would set the stage for around 100 assets to be functional on his network.
Bonus: Bitcoin: the king of crypto!
It would be obvious to mention the king of cryptocurrencies, we can't not talk about Bitcoin and consequently, we can't not have Bitcoin in our wallet.
And this is finally regardless of its price. 50K, 60K, 100K, 150K or 20K it doesn't matter. Bitcoin is the most incredible store of digital value in the world and its value will most certainly increase for two fundamental reasons.
Bitcoin is a decentralized cryptocurrency originally described in a 2008 white paper by a person, or group of people, using the pseudonym Satoshi Nakamoto. It was launched shortly thereafter, in January 2009.
Bitcoin is a peer-to-peer online currency, which means that all transactions take place directly between equal and independent participants in the network, with no intermediaries needed to authorize or facilitate them. Bitcoin was created, in Nakamoto's own words, to allow "online payments to be sent directly from one party to another without going through a financial institution.
On October 31, 2008, Nakamoto published the Bitcoin white paper, which detailed how a peer-to-peer online currency could be implemented. He proposed using a decentralized ledger of transactions grouped into batches (called "blocks") and secured by cryptographic algorithms – the entire system would later be dubbed the "blockchain."
In July 2010, Bitcoin began trading, with its price ranging from $0.0008 to $0.08.
Why Bitcoin?
Its rarity: there will never be more than 21 million Bitcoins.. Unlike the euro or the dollar, which can be printed at full capacity without anyone seeming to worry

Its adoption: the more people who want Bitcoin, the more its price will rise. This is obvious in theory at least, but it's worth remembering, because behind the fantasies about the volatility around bitcoin, too many people still forget that this market is also based on the fundamentals of supply and demand.
Disclaimer : All this information does not in any way constitute personalized recommendations with a view to carrying out transactions and cannot be assimilated to a financial investment advice service, nor to any incentive to buy or sell financial instruments.