While the crypto-market is on the rise, DeFi tokens are following suit. Here's an analysis of the segment's top coins.
DeFi tokens are posting relevant gains over the past 24 hours, and to see where they are headed, we conduct a technical analysis of the segment's leaders below. 
Today, DAI remains the largest in this crypto market space, thanks to a market cap of $7.452 billion. However, since it is a stablecoin, we will not analyze its price. 
Avalanche is next on the list, with a price of $23.83, a market cap of $6,773 and a gain of 4.01% over the past 24 hours. 
UNI, originating from the Uniswap exchange, is in 3rd place on the list. This token has been performing very well over the past few days, settling at $8.73 today, and reaching a capitalization of $6.496 million. 
WBTC, a token wrapped in the Ethereum network, has a price parity with bitcoin. For this reason, we will not analyze it today either. 
LINK, from the Chainlink network, is the last to be discussed in the next few paragraphs, trading at $7.51, with a capitalization of $3,534 million. 
TOP of the main DeFi tokens. Source: CoinMarketCap. 
Technical analysis of the top DeFi tokens
1. AVAX
A native of the Avalanche network, this DeFi token has recovered recently, after hitting a low of $13.71. 
With a current price of $23.83, it has rebounded over 70% from its low; however, the upward strength is still not enough to confirm that the major trend has resumed.
Now, the next goal for buyers is to break through resistance at $25.99. But until we see strong determination from the bulls, price is likely to quickly lose recent gains. 
For now, the increased volume we have seen tells us that we are in a zone of interest, and is a good indication to expect a larger recovery.
In order to think about selling, the small ascending line I'm marking on the chart below needs to be breached, paving the way for a downward sell-off towards the support area around $14.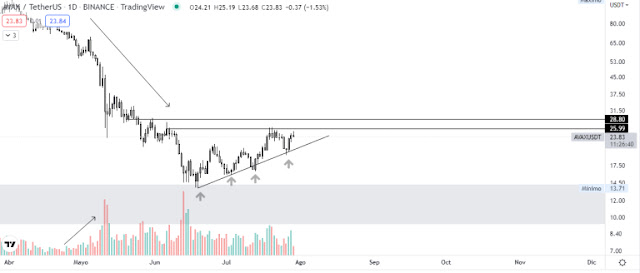 Analysis of the main tokens in the metaverse. Daily chart AVAX vs USDT. Source: TradingView. 
2. UNI
In the case of the Uniswap token, let's take a look at the weekly price chart, where we see some pretty interesting behavior; however, we need to look further. 
After gaining support at $3.78, the price of UNI seems to have bottomed out, giving way to a strong recovery. A first descending line has been crossed. 
However, we can still see a relevant succession of lower and lower lows. We should first see a change in this direction, in order to be confident in a resumption of the long-term uptrend. 
The more conservative would expect to see the $11.67 level breached, or the trendline I mark in red on the chart below.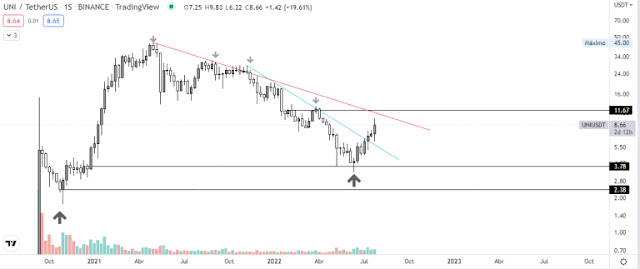 Weekly chart of UNI vs USDT. Source: TradingView. 
3. LINK
Chainlink (LINK) has long been one of the best tokens in the DeFi space. However, lately it has lagged a bit during market rallies.  
Today, we see on the weekly chart of LINK, that it has gotten support at $6.5, but no, it has done nothing more than lock in a small sideways range, without confirming a possible broader rally. 
To expect further gains from this token, resistance at $7.6 must be breached with good volume. This opens the way for buying up to probably $12.42. 
In the event that support at $6.5 is lost, the way is clear to $3.86. 
While this token also has a strong long-term uptrend, it is still far from confirming a recovery in that direction. 
Weekly LINK vs. USDT chart. Source: TradingView. 
All of our publications are intended for informational purposes only and should not be construed as investment advice.