Time machine Bitcoin 2012 : Bitcoin price soars above $9 for first time in nearly a year.
Image Source : Scmp
Bitcoin: A peak of $29?
First appearing in 2008, the first of the cryptocurrencies celebrates its 10th anniversary this year. On August 18, 2008, an anonymous person reserved the domain name for a website that was evocative, to say the least: bitcoin.org. He laid the groundwork for the world's first electronic currency that no authority could control.
Bitcoin had a price of zero when it was introduced in 2009. On July 17, 2010, its price rose to $0.09.1 On April 13, 2011, the price of bitcoin rose again, from $1 to a peak of $29.60 on June 7, 2011, a gain of 2,960% in three months.
A sharp downturn in the cryptocurrency markets followed, and the price of bitcoin bottomed out at $2.05 in mid-November 2011. In 2012, its price rose from $4.85 on May 9 to $13.50 on August 15, 2012.
The year 2012 turned out to be an overall uneventful year for bitcoin.
The week of July 18, 2012, the price of bitcoin jumped to above $9 for the first time in nearly a year. This increase suggests a growing public interest in the peer-to-peer cryptocurrency.
In June 2012, we marked the one-year anniversary of the bursting of the bitcoin bubble. We noted that after plunging for the last six months of 2011, the price of bitcoin had begun to stabilize around $5. On July 18, 2012, one bitcoin was worth about $9.20, a 40% increase in one month.
The volume of bitcoin transactions has increased dramatically since April. In April, there were rarely more than 10,000 transactions per day. In July, there have always been more than 20,000 transactions per day.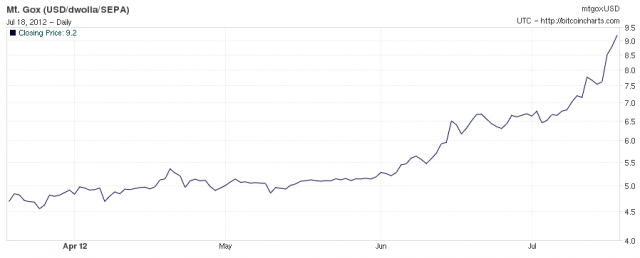 Bitcoin price over the last four months 2012 : Source Mt Gox
2012 : Birth of Coinbase
We can explain this new popularity of cryptocurrency thanks to the birth of the Coinbase platform. Coinbase, a startup aims at making bitcoin more accessible to the masses, is accepted by Y Combinator's summer class. This involves an investment of $164,000.
Founded in June 2012 in a two-bedroom apartment shared with another company, by Brian Armstrong and Fred Ehrsam, Coinbase launched its first services for buying and selling bitcoin on the Internet via bank transfer in October of the same year.
Armstrong and Ehrsam first met on Reddit and shared an optimistic vision for bitcoin and the crypto space as a whole. They then decided to launch Coinbase with the mission of making cryptocurrencies easy to use.
When Coinbase co-founders Brian Armstrong and Fred Ehrsam started the company in 2012, "one bitcoin was worth $6 and only known by a few nerds on the internet."
At the time, "bitcoin was the crazy idea that the world could have a digital currency for everyone.