Circle has partnered with Cross River Bank to offer its customers enhanced banking services. It will enable Circle to offer a range of banking services including FDIC-insured deposit accounts and debit cards, to its customers in the United States.
Cross River Bank is known for its digital banking solutions focused on security, compliance and convenience. Its partnership with Circle will allow the fintech company to expand its offerings beyond cryptocurrencies and into traditional banking services.
Circle and Cross River Bank, for a better banking service!
According to Circle, this partnership is an important step toward its goal of creating a seamless bridge between traditional finance and cryptos. The company's CEO Jeremy Allaire said in a statement that it will help "provide a comprehensive suite of services that meet the needs of businesses and consumers in a rapidly evolving global financial system."
Therefore, the move comes at a time when more traditional financial institutions are exploring opportunities in the crypto-space. Circle's partnership with Cross River Bank is just one example of how fintech companies are collaborating with banks to provide better services to customers.
Circle has been a pioneer in the crypto-industry, with its USDC stablecoin becoming one of the most widely used stablecoins in the world.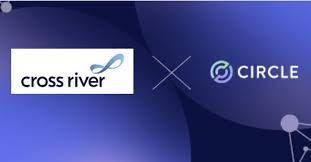 In conclusion, the partnership between Circle and Cross River Bank is a positive development for both companies and their customers. By combining their strengths in fintech and traditional banking, they are well positioned to offer a full range of services that meet the needs of businesses and consumers in today's rapidly evolving financial landscape.