Chris MMCrypto or Christopher Jaszczynski is the creator of MMCrypto, one of the most popular cryptocurrency YouTube channels. He is a German businessman and cryptocurrency expert.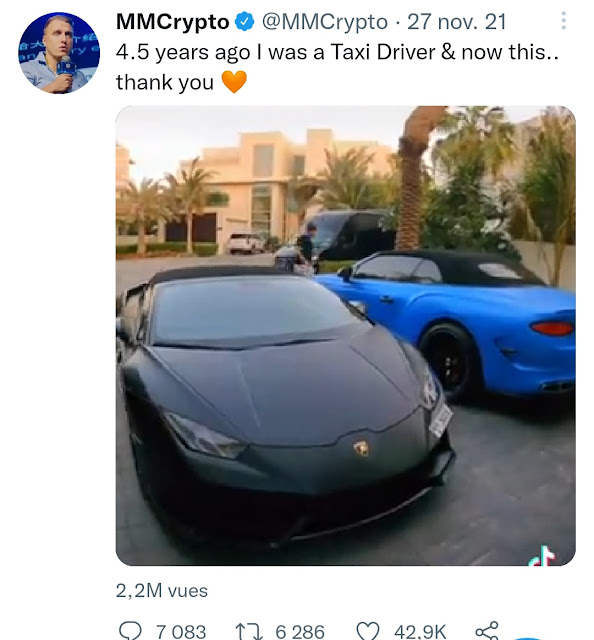 Twitter : @MMCrypto
Nearly 250K subscribers
His videos routinely get 100.000 views. Currently, MMCrypto has nearly 250k subscribers and over three million monthly views; and 838K followers on Twitter.
Jaszczynski founded MMConsult in 2017, a community of Blockchain project advisors and Bitcoin investors.
Since then, he has developed his knowledge in this field and started with a training account. It started to go well. Apart from trading cryptocurrency, he also started to invest in ICOs.
MMCrypto youtube channel stats in 2022 currently has over 530,000 subscribers. There are over 1,140 videos uploaded on it. The channel consistently do between 2M – 3M views monthly with over 70Millions views combined since it started publishing videos.
I was a Taxi Driver..
Christopher Jaszynski with MMCrypto was among the first to use on-chain analysis to predict the price of bitcoin. He has a net worth in the excess of $100 millions but how did he do as he was a taxi driver?
4.5 years ago I was a Taxi Driver & now this.. thank you 🧡 pic.twitter.com/NKgixbIbZE

— MMCrypto (@MMCrypto) November 27, 2021
Founding MMCrypto was one of the best ideas of his whole life, it was the inspirational idea which helped him to renew himself and be filled with strength to fulfill his life's purpose.
Chris said :
I think it started somehow towards the end of the bull market in 2017 when we decided, "well, you cannot only buy and hold", which is the biggest part of our portfolio. Then we also invested in ICOs. But on top of that, we thought, "well, let's outperform the market." So, we also started trading.
I was actually also a little bit trading even before crypto. I started to develop my knowledge in that space and started with a training account. That started to go well. But, as I said, this should apply to really everyone in that space. Buying and holding should be the vast majority of the portfolio because I think if you are a Bitcoin or crypto enthusiast, we can all agree on the fact that in the very long run there's only one direction and that's up, right?
TrendingCryptoNews March 28, 2022
TrendingCryptoNews aims to share the latest, trending, freakiest news about Blockchain, Bitcoin, Altcoins, Cryptocurrency, NFTs and Metaverse.