Bitpay now allows its users to place orders on Uber Eats and pay in cryptocurrencies like Bitcoin.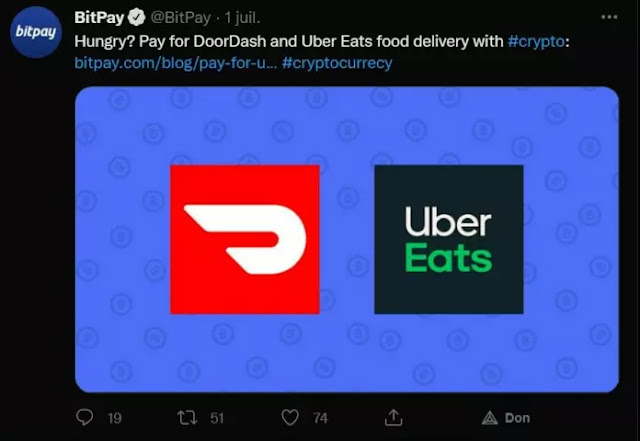 Image Source : Twitter
Bitpay announced on its blog and on Twitter, it will now be possible to pay for your UberEats orders in cryptocurrencies.
This news is one more step towards the adoption of cryptocurrencies. We're seeing more and more companies start accepting payments in bitcoin and other cryptocurrencies. The example of Bitpay is part of this evolution.
Uber rides already payable in crypto?
In February, an interesting news for travel lovers appeared. Those who travel regularly on UBER you may be able to pay for your daily or occasional rides in cryptocurrency.
The CEO of the ride-sharing app (UBER), Dara Khosrowshahi, had said on Friday, February 11, 2022 that customers will finally be able to pay for their upcoming rides with Bitcoin. And, added that the company is waiting for some improvements before making this project effective.
Mr. Khosrowshahi further stated that the company "often has conversations about this" with the aim of whether or not it should start accepting cryptocurrency as a payment method.
Uber was just waiting for crypto transactions to become cheaper and more environmentally friendly before accepting them as a way to pay for its services. Cryptocurrencies that meet these two criteria are expected to be the first to be accepted by the company.
In the YouTube video offered earlier, reporter Emily Chang asks him the following question:
"Will Uber accept cryptocurrency in the future?"
The UBER CEO in turn replies, "Absolutely, at some point."
However, we have no information regarding when this project will start, i.e., Mr.Khosrowshahi did not give any date or time frame when cryptocurrency would be effective in the Transportation with Driver (UBER) environment.
Also, other cryptocurrencies like Ethereum could be used, although, the first digital currency option would be Bitcoin.
UBER, however, is not interested in embracing this digital payment method in an effort to gain more exposure. The CEO says he is interested in all types of currencies, including cryptocurrencies because "it's good for our passengers and for us as Uber Eats customers."
It's official: Bitpay has enabled payment in cryptos
Bitpay now allows its users to place orders on Uber Eats and pay in cryptocurrencies. An instant conversion will then take place and at no cost.
Bitpay is an Atlanta, Georgia-based company. The company has announced that a dozen cryptocurrencies will be available for use on the meal delivery platform.
Among these are Bitcoin, Ethereum, Dogecoin, Litecoin, XRP and BNB. To pay for orders in cryptos, via Bitpay, three options are available.
The first is to purchase gift cards on Uber Eats from your Bitpay wallet.
The second is to use the BitPay Card to make instant transactions.
Finally, it is also possible to order from your favorite restaurants on the Takeaway platform from your Bitpay crypto wallet.
Bitpay debit cards can be obtained upon request. According to Bitpay, this can be used anywhere Mastercard-type cards are accepted. To get a Bitpay debit card, you must first download the platform's mobile app and open an account there.
This partnership remains proof that the adoption of cryptocurrencies is on a positive track. In addition, the company announced that, although Amazon does not directly accept payments in cryptocurrencies, it is possible to pay for purchases there using the Bitpay Card. The same is true for Apple's webshop.
What do you think about this news, is it really a positive way for cryptocurrencies? Will it have a direct impact on the price of bitcoin, which recently is not in very good shape?