Financial giants Invesco, BlackRock and WisdomTree file applications for Bitcoin ETFs, propelling the BTC price to $29,000. Discover the latest news from the crypto market.
In a frantic dance to secure Securities and Exchange Commission (SEC) approval, Invesco, alongside BlackRock and WisdomTree, has filed an application to launch its own Bitcoin ETF. This unexpected announcement created a wave of enthusiasm in the cryptocurrency market, propelling the Bitcoin price to $29,000, up from yesterday's $27,000.
The future of Bitcoin depends on the SEC?
With $1,400 billion in assets under management, Invesco is a major player in global finance. Their demand for the Bitcoin ETF, dubbed the "Invesco Galaxy Bitcoin ETF", is a clear sign of their confidence in the potential of the flagship cryptocurrency. Joining the ranks of BlackRock and WisdomTree, Invesco hopes to obtain the green light from the SEC to offer investors simplified access to the Bitcoin market.
These announcements mark a turning point in the financial landscape, as the SEC has so far rejected all Bitcoin ETF applications submitted to it. However, the sudden infatuation of traditional financial giants with crypto-currencies suggests a change in attitude on the part of regulators.
Meanwhile, other notable developments have also shaken the market. The recent launch of EDX, a new crypto-exchange backed by financial heavyweights such as Charles Schwab, Citadel Securities and Fidelity Digital Assets, has caught the attention of many investors.
In addition, Deutsche Bank has applied for a license to provide a crypto custody service, illustrating the growing interest of traditional financial institutions in the cryptocurrency sector.
However, this buzz around Bitcoin ETFs and crypto custody services comes as the SEC intensifies its oversight and regulation of the sector. After taking action against Kraken and filing lawsuits against Binance and Coinbase, the SEC seems determined to tighten controls.
The future of the Bitcoin price will therefore depend in part on the SEC's response to these ETF applications. If they are approved, this could attract billions of dollars of institutional investment into the market, potentially leading to a significant rise in the Bitcoin price.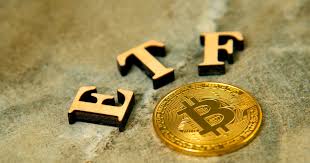 For now, the Bitcoin price continues to rise, recording an increase of around 8% to reach $29,000. Investors and market watchers are hanging on these developments, wondering whether Bitcoin will break the $30,000 barrier in the near future.